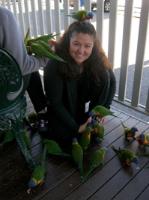 We kick off our review of the 2011-2012 CETL Grants with a conversation with Dr. Monica Lara (Natural Science, Clearwater) about  Independent Research in the Marine Sciences at SPC as a vehicle for critical thinking and student success.
Describe your project. Did the project end up being significantly different then the original plan and why?
Originally the project was to establish a marine biology research team and involve students in research and in conducting science in a number of ways. I have several students currently involved in three separate research projects but would love to involve even more students. I would still like to establish a credit course for their research. Students have presented their work at various meetings and additional students attended these professional science conferences. In addition, three of them attended a Polychaete workshop to learn identification of organisms. Partnerships are coming out of the woodwork and there are more than I can address!
What was the chief accomplishment of your project? What problem did you solve?
The presentations of my students work at two national conferences in 2012 were the culmination of the year's work. They won best posters at one of these meetings. It is difficult to recruit students to do this work when they are not compensated with even course credit for spending countless hours on their projects.
What were the results? Did you see a numeric increase or a qualitative improvement?
The level of understanding of the work of scientists that these students have gained is far more than I had hoped for. They have learned to analyze data, design experiments, write abstracts, put together posters, make oral presentations of their work, and attended workshops and conferences. Our conversations have changed so much and they have grown into critically thinking, efficient, and creative people.
Did YOU learn anything from the project? Did you make any changes to your teaching style or content?
I learned just how great an impact this hands-on, experience-based learning can have! It works so quickly! And is so effective! And the students are so grateful and excited. They come in on their own every week and push themselves harder than I would ever dare to push them!
Can another teacher use your project? How can they implement your learning?
Yes, they can encourage their students to join in the research that is quickly evolving at SPC. They can establish research groups themselves or at least introduce some of the experiences into their work. I will be presenting my strategies and ideas at the Critical Thinking Institute this year so I invite anyone interested in learning about what we do and how it works to attend.
Do you have plans for a follow-up project/additional research? If you did a grant again, what would you do differently?
There are two new projects in the works. We are being sought out by people wanting to involve students in research projects and I have been approached with two new projects. I have also been contacted by a scientist from Brazil who wants to come work here with me as a visiting scientist for three months. That is yet another opportunity for students to learn about his research and perhaps assist him in that work.
Thank you, Dr. Lara, for  sharing your insights into the fun and challenges of grants, as well as your success with students in the sciences!
Be sure to share your thoughts with Dr. Lara in the comments sections below and note the dates for this year's CETL grants – The deadline to apply is February 15th, 2013 by 5:00 pm – and for the Critical Thinking Institute – Thursday, April 4 and Friday, April 5, 2013. See you there!